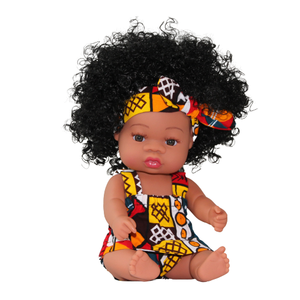 RESTOCK - Only 1 Left
Ready to ship.  Will reach in time for the holidays!
A high quality realistic Afro Caribbean doll!
Made of high quality silicone, non-toxic and anti-allergenic for children, eco-friendly, the doll is smooth and soft to the touch. The eyes are made of acrylic and the hair is implanted by hand. The joints of the arms, legs and head can rotate 360°.
The doll measures 32cm from the base of the skull to the toes. She has long lashes, a light makeup, finely drawn eyebrows, and an adorable navel. All these details make it look much more like a real little girl than most dolls you'll find in a store.
The doll complies with CE standards, so safe for children.
Clothing in African wax, sewn by a craftsman couturier from Togo.
The clothes are sewn by Afrowax Empire, a micro-company partner of the Loïse & Lola project.

Made in France